Colnago C68 | V4Rs | TT1 | V3 | G3X |
click on Enquiry to get a quick Colnago C68 price quote or visit our page
scroll down
Colnago C68 |
Colnago C68 The pinnacle of Colnago's craftmanship
C68 frameset : Manufacturer suggested retail price 5650€ ///ask for an offer or go to our STOCK page and check our !
---
ask for a special price offer for frameset or complete bike
Colnago V4Rs |
Colnago V4Rs Disc frameset: Manufacturer suggested retail price 5150€ /// ask for an offer or go to our STOCK page !
---
ask for a special price offer for frameset or complete bike
Special offer for V4Rs preorders with Shimano Ultegra and NEW Sram Force eTap AXS . Ask for an offer
Colnago C68 Ti |
Colnago C68Ti Disc frameset:Manufacturer suggested retail price 6600€ ///ask for an offer!
---
ask for a Colnago C68 Titanium price offer for a frameset or complete bike with Campagnolo Super Record EPS or Sram Red or Shimano Dura Ace
We price match ! Saw better price ?
Colnago TT1|
TT1 Disc Time trial frameset: Manufacturer suggested retail price 7140€ ///ask for an offer or go to our STOCK page !
---
frame kit includes frame, fork, seat post, headset, handlebar and bottle cage+bottle.The extensions for handlebars are not included in the frame kit.
We price match ! Saw better price ? Let us know !
Colnago V3
v3 Shimano 105 Di2
v3 Shimano Ultegra Di2
---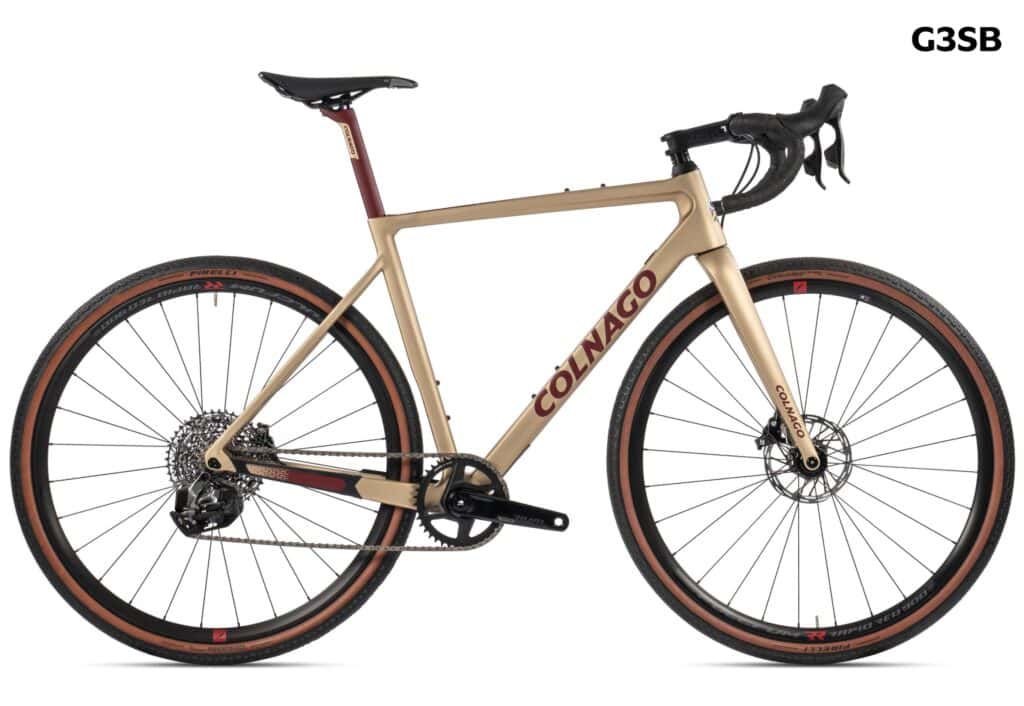 Colnago G3X Gravel
G3X disc Campagnolo Ekar 13s ~ 1x Fulcrum Rapid Red 900 DB :
G3X disc Sram Rival AXS Disc 12s ~ 1x Fulcrum Rapid Red 900 DB :
---
NEW COLNAGO C68 FLAGSHIP ROAD BIKE DEBUTS MADE-IN-ITALY MODULAR CONCEPT
The successor to the venerable C64 abandons tubes and lugs in favor of a modular design that's stiffer and even more customizable.
According to Colnago, the smaller frame segments allow for different molding techniques that aren't possible with bigger sections, as well as better quality control and more consistent finished parts. Ride feel is supposedly more tunable as well, and at least compared to the C64, the Colnago C68 is also stiffer for a more responsive feel under power. And because of the way the two head tube sections nest and slide within each other, Colnago says the new Colnago C68 can be built with customizable stack and reach (within a certain range, that is) — an important feature since there are now seven stock sizes instead of nine on the C64.
Perhaps most importantly from a marketing perspective, the new construction method also gives the Colnago C68 a far more modern appearance than any C model that came before it.
Colnago still pays homage to the Colnago C68's lugged history with intentionally stepped joints at the head tube and seat cluster, but the other joints are entirely hidden from view. Tube shaping is more pronounced, too. The seat tube and down tube sport a D-profile (presumably for a bit of an aero advantage), the top tube is more trapezoidal and flared as it approaches the head tube, there's a modest cutout on the back of the seat tube for tire clearance, the rectangular chainstays are tall and boxy for rigidity, and the bridgeless seatstays seem designed more for comfort than aero watts.
Colnago has fitted the Colnago C68 with fully internal routing, which is unfortunately only compatible with electronic drivetrains and disc brakes (sorry, folks, your dreams of a C68 equipped with a Campagnolo Super Record mechanical rim-brake groupset have been dashed). However, Colnago's approach to internal routing seems fairly agreeable.
Precise and elegant, with an impeccable ride quality, the Colnago C68 Road Disc Frameset is the essence of road cycling, handmade in Italy for riders seeking unparalleled attention to detail. A step above the acclaimed C64 model, the C68 is lighter, stiffer and more precise, all without detracting from its traditional roots. The fork sees design improvements, further lowering weight and increasing rigidity, and the move to a T47 bottom bracket makes maintenance all the easier.
This frame comes complete with a CeramicSpeed SLT headset, guaranteed for life against corrosion. Less race-focused than its model V series counterparts, this C series frame offers a refined, high-quality ride feel, setting it apart from other models and making it the perfect basis for your next custom build.
HIGHLIGHTS of Colnago C68
The all-new frame design is lighter and stiffer than the C64
T47 bottom bracket for rigidity and ease of maintenance
Improved stiffness allows for enhanced handling precision
A removable front derailleur mount allows for cleaner integration with 1x drivetrain setups
The fork sees enhanced stiffness and reduced weight
CeramicSpeed SLT (Solid Lubrication Technology) headset with a lifetime guarantee
Manufacturer claimed weight of 930 (+/- 10) grams (size 51cm, unpainted, no metal parts)
---